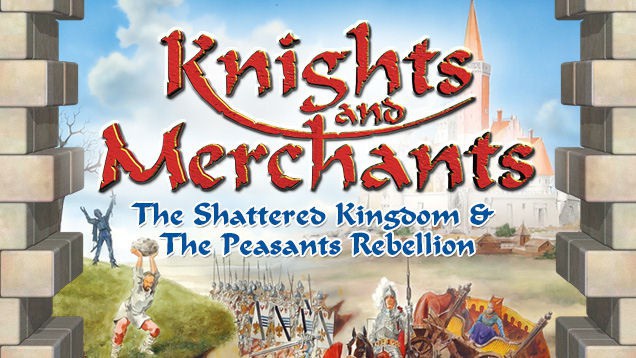 Knights And Merchants recreates the era of the Middle Ages. Apart from the purely fictitious geography of our world, all game elements and scenes are based on the Anglo-Saxon period, ca. 1200 A.D. And we haven't used imaginary elements like fabled creatures, either. The player takes on the role of an ordinary captain in the Palace Guard. A conspiracy against the king catapults the captain into a situation where he finds himself responsible for the defence of the last royal province. This is all that remains of the shattered kingdom, which has been split into numerous small principalities and fiefdoms. And now even the king himself, ensconced in his capital, is threatened by enemy armies. This is the starting point of your Middle Ages adventure. Now you must win back all those provinces which once belonged to your king.

Knights And Merchants can be described as a strategic economy simulation. Economics play a major role in this real-time action game. The player can manufacture different products, making use of numerous buildings and producer goods of the Middle Ages period. He can then use his serfs to construct and maintain buildings and roads. The economical structuring is very specific - you manufacture finished products using various raw materials which go through your production processes. All these manufacturing systems are highly detailed and visually understandable, enabling fast and dependable control of your economy.

DLH.Net is proud to announce that all registered DLH.Net visitors can now get a Steam key for Knights And Merchants for free. This is our 3rd Steam key giveaway (after Enclave and East India Company (unannounced) - you can still unlock the Steam keys for those - if you so far haven't done that already) and this time it's for a brillant strategic simulation, which has lost nothing about it's fascination. And more: We are giving away the new HD version of the game. All registered DLH.Net users can login to their DLH.Net profile and unlock the key by simply clicking on one button, that's all!


Not registered yet? Just click on the link "New User / Newsletter" or go to http://www.dlh.net/en/register. Fill in the small form, reply to the confirmation email and ge the keys! If you also get the newsletter, you always will be informed about our Steam Key giveaways, because Knights And Merchants will certainly not be our last game to spread!

Have fun!