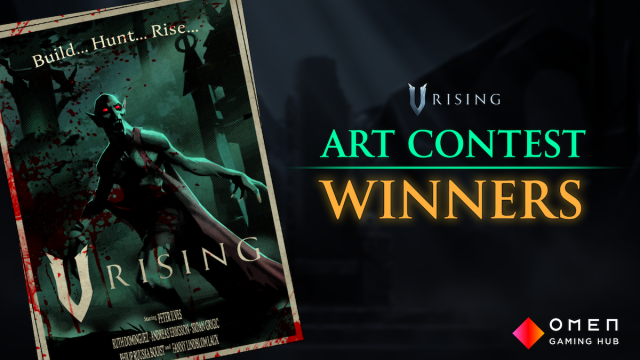 Horror Poster Art Contest Winners announced for Vampire Survival Game V Rising
7 Finalists, 2 Runner-Ups and 1 Grand Finalist chosen from a horde of entries
Skövde, Sweden – 26th April, 2022 – Swedish game developer Stunlock Studios have today announced the winners of their Horror Art Contest for V Rising, the upcoming open-world fantasy vampire survival game, hosted in partnership with HP OMEN.
The brief for the contest was to create a retro-style horror poster for the game inspired by either old horror movie posters (any decade from the 1920s to the 1990s) or retro horror game cover art. With more than 60 amazing entries, the jury consisting of Jeremy Bearson (Community Manager), Johan Ilves (Marketing Director), and Ruth Dominguez (Discord Queen & Business Controller), with support from Johan Wahlbäck (Art Director) and Johan Aronson (Senior Concept Artist) had the nigh impossible job to pick the grand winners and runner ups.
"The entries to the contest have been unbelievable! It's such a pleasure to see
V Rising
fans rise up to the challenge and produce such high quality posters," said Johan Ilves, Marketing Director at Stunlock Studios. "We somehow managed to whittle the entries down to 10 of the best displays of skill, creativity, and artistic merit. I hope you enjoy them as much as we do."
More on V Rising
In V Rising, you need to survive as a newly awakened vampire in a world ruled by humans and rise to become the next Dracula. Feed on blood to gain new powers, hide from the scorching sun, and engage in real-time PvE and PvP combat set in a dark fantasy realm. Raise your castle and invite friends to join as you explore a vast open world, pillage villages, skirmish with bandits, and delve into the lairs of supernatural beasts. Attack other player's castles, or become a diplomat in a game of blood, power, and betrayal

V Rising is launching on Early Access on May 17th following their successful ongoing closed beta. Sign up for the V Rising Beta here: https://playvrising.com/signup
About Stunlock Studios
Stunlock Studios is one of the leading Swedish game developers in Skövde and most known for arena brawler Battlerite. Since the launch of Battlerite, more than 6 million unique players have tried their luck in the arena, shooting Battlerite up to the peak of the 'top-selling' free-to-play games on Steam on several occasions. With a passion for multiplayer action games, the studio crafts ground breaking and community-driven games, always with their players in mind.

For more information, visit: https://www.stunlock.com