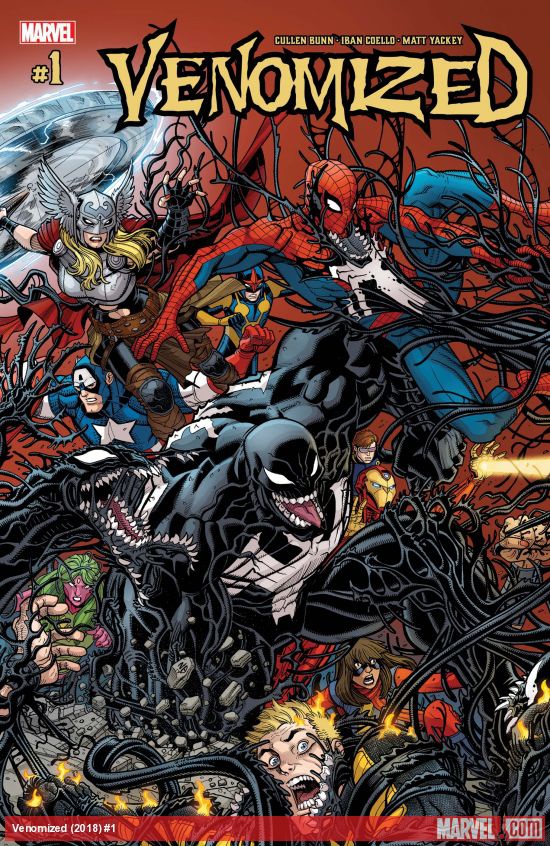 Years ago, back in the Secret Wars era, Spider-Man had gotten himself a new black suit which was not a costume but a symbiote. This creature bonded with Spider-Man and was looking to control him, but the alien's plan was subsequently foiled.  Now, years later, the symbiotes are back and they are hungry for more than normal folk. They want to dine on some of the superhuman characters that inhabit the Marvel universe!

Venomized #1 picks up right after the events reached a fevered peak in the Venomverse series. This race named the poisons have hungered for super powered symbiotes and their hosts and has only one objective… to put a symbiote in every superhero and consume them ALL! However, the original Venom and the X-Men are still missing in action since the events of Poison-X. Who will be able to save not only the heroes of the Marvel universe but the planet itself?!


This five issue limited series is written by Cullen Bunn who writes for comics as well novels and screenplays. He is most famous for Deadpool kills the marvel universe, Venom and the Fearless Defenders. The art is done by Iban Coello and he has been featured on such great titles such as Venomverse, Guardians of the Galaxy and Age of Apocalypse.

Venomized #1 is in your local shop right now and for more information or to download the comic digitally head over to https://comicstore.marvel.com/Venomized-2018-1-of-5/digital-comic/47709?r=1 and get ready for the venom apocalypse.