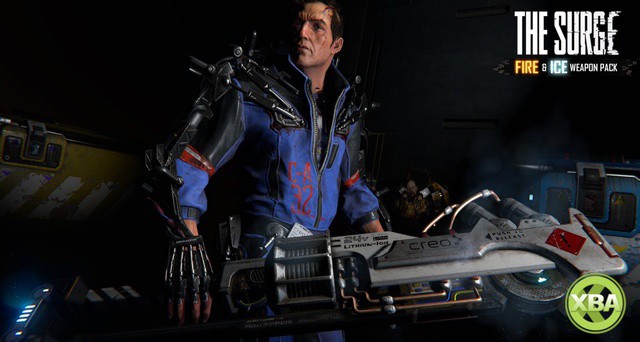 The Surge, a dystopian action-RPG released some sweet DLC on the house today, with a fire and ice theme. The DLC offers up 10 new weapons, 5 fire and 5 ice. 

For the uninitiated, The Surge is a hack-N-slash action RPG, where players assume the role of a pissed off dude in an exoskeleton. He uses a variety of tools to hack pieces off his enemies, in essence becoming a walking lawn mower. Yeah. It's pretty rad.

But that's not all, walking lawn mower fans! There is going to be another tasty slice of "Premium DLC", slated for an end of the year release. Titled "A Walk In The Park", the new DLC will feature a new level set in an amusement park, new weapons and new enemies.

Dig it. 

Official Announcement:
Dystopian action-RPG The Surge is releasing today its first post-release DLC for free, for PlayStation 4, Xbox One and PC players. Deck13's hardcore sci-fi adventure has you fighting for survival in a facility ruined by a mysterious event called the Surge. Utilize your powerful exo-suit as you sever limbs, parts, and weaponry from your enemies using The Surge's unique targeting mechanics and tight combat system. This free DLC brings 10 new weapons to the game – 5 of fire and 5 of ice – and you will have to fight for them.
Representing fire are the new MG-branded weapons. These high-tech military weapons are deadlier versions of CREO's riot control products, capable of high physical damage with low elemental damage. Repeatedly attacking humanoid enemies with these red-hot blades will create a powerful fire-based explosion.
Also available in this DLC, the ice weapons cometh! These are CREO's space travel testing tools, concepts and prototypes constructed in their very own R&D labs. These weapons were created to test materials in the cold darkness of space, and can harness extremely low temperatures. They are not designed for combat, however, so they have low physical damage but high elemental damage. Wielding these weapons provide a passive bonus to health.